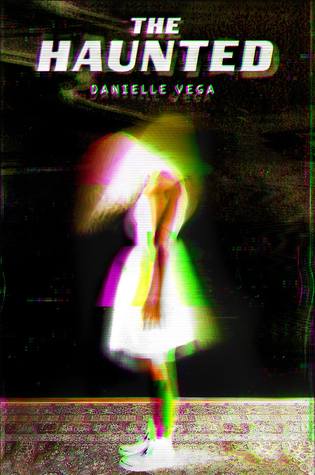 Hardcover, 304 pages
Expected publication: June 4th 2019 by Razorbill
Rated 2 of 5 stars
Danielle Vega's horror novel, The Haunted, falls flat for readers that enjoy character building in their horror stories. We want to feel something when characters die or get hurt. This was a major issue for me as I moved through this cliche take on high school drama mixed with a haunted house story.
The story follows Hendricks, a high school student, fleeing from her past abusive boyfriend with her family to small town, Drearford. We get only snippets of what happened with her boyfriend throughout the book, no real detail on what was so horrible or what made her fear or avoid him at the level she did. This created a disconnect for my feelings towards her fleeing and having her family pick up their lifestyle as well. Seemed far fetched to me but I let it go. When Hendricks arrives at The Steele House (no explanation on why its named this), she finds that it is creepy (its unfinished renovation everywhere and the house is old and creeky). Hendricks has her first day of school and almost immediately gets thrust into the "in" crowd. This is where every cliche high schooler is born. The conversation between characters will grate on your nerves (as I struggled to hear about drinking, parties and who likes who endlessly)! I didn't gather any meaningful information about any of the secondary characters throughout the entire book (except to place a lackluster LGBT character angle). So when the characters experienced something at the end of the book, I could care less about any of them.
Hendricks gets stuck in some sort of crush/love triangle thing but actually comes across as a major bitch for it, instead of being confused about her love life. So strike out for readers liking the main character in the story either. She comes across as a user and a snob. Readers will see the relationships as stagnant and be let down that they don't feel anything when things are said, or "grow" between characters. In the end, the creepy scenes and ghost scenes were decent. I felt only a few came through truly scary while the others read a little overkill. In the end, the book audience is stated to be Age 9+…Do NOT let your 9 year old read this book! I repeat, do not let your 9 year old read this due to the heavy drinking of all the high school characters. It could send a very wrong message to someone excited about fitting in at high school. It also lists its for grades 9-12 (I'd actually say Age 16+ but still with the caveat for glorified drinking and drunkiness, 18 may be better).  Overall, I did not care for this story due to lack of character building and the twist at the end did very little to save it.
Raging Book Reviews Not Recommended
*Special thanks to Razorbill for sending a paperback for an honest review.