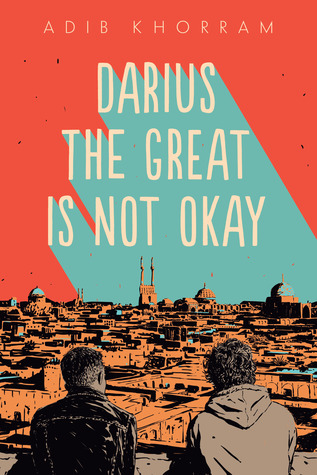 Rated 3.5 stars of 5
Adib Khorram's debut novel, Darius the Great is Not Okay, is a justifiably good coming of age, slash, young adult peek into coping with mental health. Khorram created the character, Darius, and his surrounding family in an ingenious way. He has the seemingly absent but silently tortured father, the perfect but not so perfect sibling and the loving, hold-it-all-together mother. Then there's Darius. He has depression, like his father, and he tries to navigate bullies at school, having friends he sometimes can't fully open up to and then a family that he feels tolerates him but doesn't fully get him. His depression wreaks havoc on his emotional state and he uses Star Trek references throughout the story to explain his emotional state or the function of his life. I found this bit to be a tad annoying (probably because I'm not a Trekkie).
The bright spot for this novel was when Darius gets to fly to Iran with his family and learn more about his Persian roots and his family in Yazd, a small Persian town with a depth of history and culture. While in Yazd to check on his ailing grandfather, he learns what it means to have layers within your culture. To find a place where you belong and where you are wanted. Many times throughout the story, you see Darius' struggle with depression. He cries often, looks negatively at almost everything that happens and misses or inflates regular social cues. During his time, he gains a friend in Sohrab, a neighboring boy that has his own family issues but becomes a great source of encouragement and friendship for Darius (or Darioush in Farsi). The author uses this relationship to hint at some form of homosexuality in Darius, and possibly Sohrab too, but it is so vague you won't know if its just close friendship or something more. I appreciated that this did not become a love story and I preferred the way the author built this friendship.
Overall, the story was filled with wonderful history and visuals in Persian culture and Iranian beauty that we haven't seen or heard of before. This is where the story shines as a gem for cultured writing. The mental health aspects were secondary for me because I was too busy in awe of the amazing culture, history and beauty of Khorram's version of Persian lifestyle, the Farsi language and beautiful description of its landscape. I struggled with Darius as the main character because being in the mind of a child saying "Um" far too often or thinking negatively about everything that occurred was an annoying speed bump every time the story got going. It took me a while to get into the character and wished I had maybe read from the mother's point of view or Mamou's to fully appreciate everything in the familial structure. Because Darius felt like he was on the outside of everything, the reader feels the same way too. I struggled to get close to the story due to this and only felt a little surge of hope at the end when they were heading back to the United States. Since the good-bye was short lived, so was my emotional attachment. While I think the novel did a great job in particular areas, I am not sure the story will stick with me like my vision of Iran will.
Raging Book Reviews
*Special thanks to Penguin Random House, Dial Books, for sending an advanced review copy.