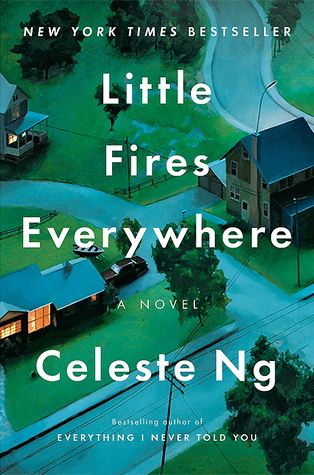 Rated 4 of 5 stars
Celeste Ng writes a subtle drama revolving around the adoption of a Chinese baby by an affluent white family that makes every reader straddle the fence on the decision between right and wrong. Throughout the story, the characters lives take a spin in their own directions yet their decisions all tie to their differences and how people deal with diversity. Diversity is the big question in this book on multiple levels.
We meet Mia and her intelligent and meek daughter, Pearl early in the novel. They travel in an old VW with everything they own in the back of the car. Mia is a struggling artist taking her daughter from place to place with her but seems very vague about Pearl's history.
We meet the Richardson's. This family is the typical affluent family that want to help but in their generosity also want accolades and control over those they help. Elena, studious and buttoned up tight as she is, has a life she always dreamed and everything fits in its place, except for one child. Her children, Trip (her perfectly handsome, athletic son), Lexie (her smart yet popular and pretty, social butterfly), Moody (her sensitive and caring son) and Izzy (her problem child and sardonic voice of realism). Mr. Richardson is not much within the story but he is a basic guy that plays by the rules and sticks to his work as a lawyer. Mrs. Richardson's job as a small town journalist gives her the edge of wanting to know everyone's backstory. This curiosity is the beginning of her infatuation with Mia and subsequently Pearl.
The book revolves around the adoption of a baby by Mrs. Richardson's best friend (but not really a bestfriend…just someone she gossips with). Everyone's opinion in the story is shaped by their own lives and experiences. And as a reader, you may find something similar happening with your own opinion. This is what makes this novel so good. The questions in the story will make you waffle between what is right and wrong.
I like Ng's way of calling all the townspeople by their formal names as it goes with the setting of Shaker Heights, an organized community with very stringent rules on appearance. This formalized way of reading the characters reminds us they are upper crest, affluent and deem respect…while Mia is just, Mia. This is an important distinction. I felt the ending was incredibly powerful and brought the lessons full circle. Sometimes its not about what everyone knows but what a person knows within themselves.
Raging Book Reviews Recommended
*This book was purchased with my own money for review.
Grab a copy with free shipping on Book Depository