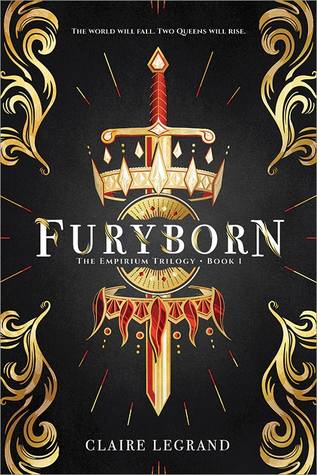 Rated 4 of 5 stars
Being a newcomer to Claire Legrand's work, I wasn't sure what to expect with the writing,pacing, characterization and overall plot line before I started this ARC. I love going in blind to most stories and this one was no different. I was originally reeled in by the beautiful cover. If you follow my book choices, I usually gravitate to dark books with some form of red on the cover. Weird, I know. Anyway, this story of two queens thousands of years apart yet linked by their calling does not disappoint.
Here's the synopsis:
When assassins ambush her best friend, the crown prince, Rielle Dardenne risks everything to save him, exposing her ability to perform all seven kinds of elemental magic. The only people who should possess this extraordinary power are a pair of prophesied queens: a queen of light and salvation and a queen of blood and destruction. To prove she is the Sun Queen, Rielle must endure seven trials to test her magic. If she fails, she will be executed…unless the trials kill her first.
A thousand years later, the legend of Queen Rielle is a mere fairy tale to bounty hunter Eliana Ferracora. When the Undying Empire conquered her kingdom, she embraced violence to keep her family alive. Now, she believes herself untouchable–until her mother vanishes without a trace, along with countless other women in their city. To find her, Eliana joins a rebel captain on a dangerous mission and discovers that the evil at the heart of the empire is more terrible than she ever imagined.
As Rielle and Eliana fight in a cosmic war that spans millennia, their stories intersect, and the shocking connections between them ultimately determine the fate of their world–and of each other.
Now to the review:
The book takes off immediately and cracks you over the head like a lightening bolt. The action is so fast, intense and frequent that you'll get through this 500+ pager without missing your weekend plans. The writing is done well. The beginning starts with end…so you know what will happen but you follow the storylines to see how the characters got there. And there is a LOT that happens for them to get there. I felt a bit lost in some places and maybe they'll be explained in greater detail in future novels in the series (why the women/girls taken? what is the true scope of Eliana's power since she is half/half? Can Simon not time travel anymore? Are they both blood queens but in a different time zone? So does that mean there's a Sun Queen still out there? etc) . But we follow Queen Rielle and Eliana in alternating chapters showing their life stories and not really knowing until the 70% mark why its important to follow both.
Queen Rielle lives in a time where she is hidden away from people because she is so powerful with her elemental skills. Most elementals can only handle one element with the use of an object to hold the power but Rielle, as powerful as she is, can use every element and without anything to cast it with. After showing her skills accidentally, she is said to potentially be one of the prophesied queens that will protect humankind, but specifically, the kingdom she is living in from angels (that are more like demons…love this twist by the way). To ensure she is such prophesied queen, she must pass all elemental trials and control her power. As inhumane as the trials become, Rielle learns more about herself through speaking with Corien, a voice in her head, that encourages her to win but also seems to want to lure her to a darker side of herself. I absolutely loved the way Corien, the villain, was introduced and handled throughout the book! On the flip side, Rielle has her friends and love interest as secondary characters (Audric and Ludivine). Audric, I liked that he was the quintessential nice guy while Ludivine grated my nerves with her angelic niceness (*pun). The twist at the end was really good.
Now Eliana's side of the story starts with her being a hired assassin for the kingdom. She acts like she is selfish and murderous but she has a soft side to her for her family. I thought she cried entirely too much to be a bad ass as she was portrayed but that only pales in comparison to her extraordinary ability to heal. She isn't sure why she can jump from high places and heal her body in seconds but she keeps it a secret from everyone except her younger brother, Remy. Once Eliana's mother is taken, she makes a deal with another deadly assassin, aptly named the Wolf, in order to find her mother. She makes a lot of mistakes and I think this added so much depth to her character, the way she handles all her bad decisions. I liked Eliana as a character more but like Rielle's story more, if that makes sense. Simon, the Wolf, seems like Eliana's annoying, heroic archenemy for most of the book until the very end. I hated, absolutely hated, that they changed Simon's character to some mushy minion when he was strong, funny and emotionally wounded from the very beginning…and that's why we loved his interaction with Eliana. I want Simon back! Leave the mush to Audric.
The end of the story seemed a bit rushed and I wanted more of a cliffhanger. I definitely think Corien should've been brought up at the end, just to ensure readers he will be back with a vengeance.
In the end, I thoroughly enjoyed this novel and I'm not usually one to pick up this genre. I think genre-heads will LOVE this story and can forecast a cult-like following of this trilogy. I'll definitely be adding this trilogy to my collection.
Raging Book Reviews Highly Recommended
*Received by Netgalley for review.
Pre-Order your copy or grab one on the release date of May 22, 2018.
Check out the book video HERE