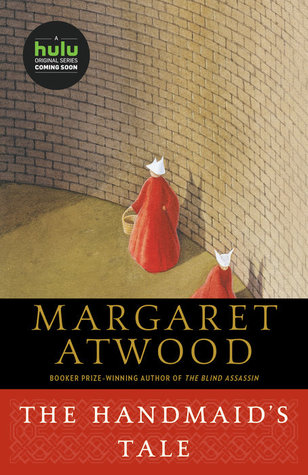 Rated 3 of 5 stars
Synopsis:
Offred is a Handmaid in the Republic of Gilead. She may leave the home of the Commander and his wife once a day to walk to food markets whose signs are now pictures instead of words because women are no longer allowed to read. She must lie on her back once a month and pray that the Commander makes her pregnant, because in an age of declining births, Offred and the other Handmaids are valued only if their ovaries are viable. Offred can remember the years before, when she lived and made love with her husband, Luke; when she played with and protected her daughter; when she had a job, money of her own, and access to knowledge. But all of that is gone now…
Review:
Margaret Atwood has a distinct writing style and always pushes the limit of what could be if we let ourselves be less vigilant for freedom. She toys with the idea of what life is like in a society where women are reduced to only being a vessel for babies. The depravity in the world she creates is so breathtaking! I found myself thinking, "this could never happen" but then I'd doubt myself and say, "this could never happen…right?"
That's the beauty of Atwood's writing. She makes you question what is and what could be if we let our guard down and give up the seemingly small freedoms we have. This is a right-on-time book for me because of how much freedom we, Americans, give up just to feel "safe". In this book, Offred felt safe for the majority of the book (in essence). She felt safe in the rigid confines of her life and knew what her purpose was…to bear children for whatever man was placed in front of her. You see Offred struggle with herself throughout the book. Struggle with how weak she feels and allows herself to feel. She takes great joy in the simplest of ideas, such as whispering to a friend, or even making a friend. Towards the end, you see the build up of her break down. You see the thought process shift from "why do I let this happen" and "I miss my old life" to "I'm sick of this life". Her internal journey makes the reader feel like we are snooping in our bestfriend's diary.
As with most Atwood books, you find yourself drawn to the world in the first half of the book. You establish the setting and the expectations. Then in the second half, you thoroughly dig into the psyche and emotions of the main character. For some, this may give the impression of a slow start and fast finish. Overall, I enjoyed the book and found the end (pretty much the last 100 pages) to be the most gratifying. I'd recommend it for people who enjoy slow to start, psychological post-apocalyptic style stories.
Raging Book Reviews Recommended
*purchased with my own money