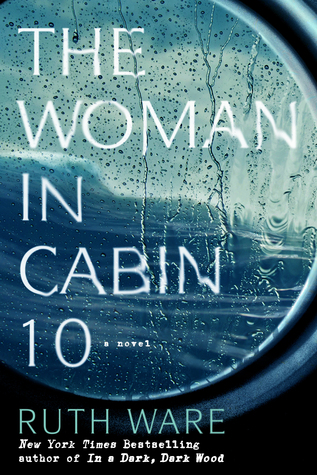 Rated 2 of 5 stars
This is my second Ruth Ware book and will likely be my last. The hype behind this book alone has made me question whether there will be any really great book from her that aren't hyped to the max. It makes me not trust the publicity behind this author and that sucks royally for me as a reader since I spent my hard-earned money on both of her books because everyone LOVED them so much and I saw it practically everywhere. Well, now that I know that she has a good publicity team, that's about all I have to quantify my spending because the books were not great, not even that good. So let's get into it…
Ruth Ware has a way of creating the weakest, shrinking violet female leads that make me think she lives in some bubble somewhere. A place where the average woman is sobbing 75% of the time and the other 25% she is drinking her troubles away. This to me is a very annoying and demeaning trait for female leads to have. Therefore, I absolutely hated the main character in The Woman in Cabin 10. Laura "Lo" Blacklock is a travel writer sent to a luxury cruise liner to do a write up on all the rich and influential people attending the first voyage. Before she attends, she is robbed in her apartment. Not at gunpoint or knife point…he just locked her in her bedroom while he took everything. Of course, this has sent her reeling and paranoid that someone is out to get her…even though she has no security on her place. Anyway, this robbery stays with her and makes her feel unsafe so she heads to her boyfriends place. He returns home and helps ease her mind even though she ends up fighting with him and basically calling off the relationship in a fit of misplaced anger. At this point in the story, I'm wondering what the hell is wrong with this woman? Her reasoning for fighting with her boyfriend seems very sudden and dramatic. So I rolled my eyes constantly during their exchange. I guess the author didn't want them to be on great terms before the cruise because it was sooooo forced.
Anyway, Lo finally makes it to the cruise and its pretty fancy. There's only a small group on the ship. The cabin next to hers is supposed to be empty but she sees a girl in there when she asks to borrow mascara before dinner. Later that evening, while in bed after a night full of too much drinking, she hears a scream and splash. When she rushes to look out the balcony, she sees what looks like a hand going beneath the tide and sees a blood smear on the next patio door. She calls the security team who inspects the room next door to find nothing there about 5 minutes later. No blood. No signs of struggle. Nothing from the girl who was staying there that lent her the mascara. So she is tossed away as a drunk that was dreaming but she believes what she saw.
Throughout the rest of the story, you follow Lo's quest to figure out who the person was in the cabin next to hers that no one seems to know about. The story gets really boring at this point. She finds something then someone steals it, erases it or loses it. It's like "oh look what I found…then where'd it go?" for about 150 pages. In between all this, there's lots of drinking, crying and weird interactions with guests, including an ex boyfriend. There was literally no one likable in this story.
In the end, there's a few twists but none that are easily believable. It gets interesting at about 275 pages up until the end but who wants to wrestle through 275 pages of mediocrity ? So if you read this book, just skip to 275 and start there. You will still be asked to suspend your logical mind when they explain what has happened and how a person gets away with it.
If you prefer weak, drunk female protagonists…then have at it. Otherwise, save your pennies and get a book with a real woman leading the charge.
Raging Book Reviews Not Recommended
*This book was purchased with my own money.